Discover Your Patch: Adelaide Nature Notes by Dr Sandra Taylor
People who made their living from the land or the sea once used cloud rhymes to predict sunshine and rain.
Mares' tails and mackerel scales make lofty ships carry low sails.
When clouds appear like rocks and towers, the earth's refreshed with frequent showers.
Clouds remained an important predictor of weather during the development of the science of meteorology in the early 1800s. This inspired Luke Howard, a keen observer of the weather in and around the city of London, to propose a classification of clouds in 1802. He recognised three main types of clouds: Cumulus (rocks and towers), Cirrus (mares' tails) and Stratus, as well as combined types like cirrocumulus (mackerel sky).
Howard's classification formed the basis for the modern system of classifying clouds into 10 types by shape and height above the earth (as shown in the diagram below).
Cirrus: A high cloud with white tufts made from ice crystals. Prediction: no rain.
Cirrocumulus: A high cloud with small ripples made from ice crystals. Prediction: no rain.
Cirrostratus: A high cloud that looks like a transparent veil. Prediction: no rain.
Altocumulus: A mid-level cloud, white and rippled with dark shading. Prediction: possible light showers.
Altostratus: A mid-level cloud that looks like a grey sheet and allows the sun to appear as if shining through ground glass. Prediction: rain or snow.
Nimbostratus: A thicker and darker sheet of low cloud. Prediction: heavy rain or snow.
Stratocumulus: A low cloud that looks like a series of white rolls. Prediction: drizzle.
Stratus: A low grey cloud with a uniform base. Prediction: drizzle.
Cumulus: Low clouds that appear as separate vertical rolls or towers. Prediction: rain showers.
Cumulonimbus: Large cauliflower-shaped towers, often with 'anvil' tops, that sit low in the sky. Prediction: rain showers or snow.
Now that they are equipped with a wide range of scientific instruments for measuring atmospheric conditions, meteorologists no longer rely on cloud observations to aid weather prediction. However, the publication of "The Cloud Spotter's Guide" in 2006 encouraged the appreciation of clouds as objects of natural beauty and wonder. Cloud spotting became a new hobby and the formation of a Cloud Appreciation Society soon followed, with more than 40,000 members now sharing images of particularly beautiful or unusual cloud formations online. Of course, there is an iPhone and Android app, but for many cloud spotters it is enough simply to look up at the sky every now and then and marvel at the view.
The Coton Cloud Identification App is available at: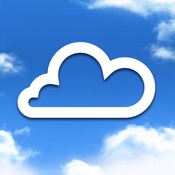 Resources